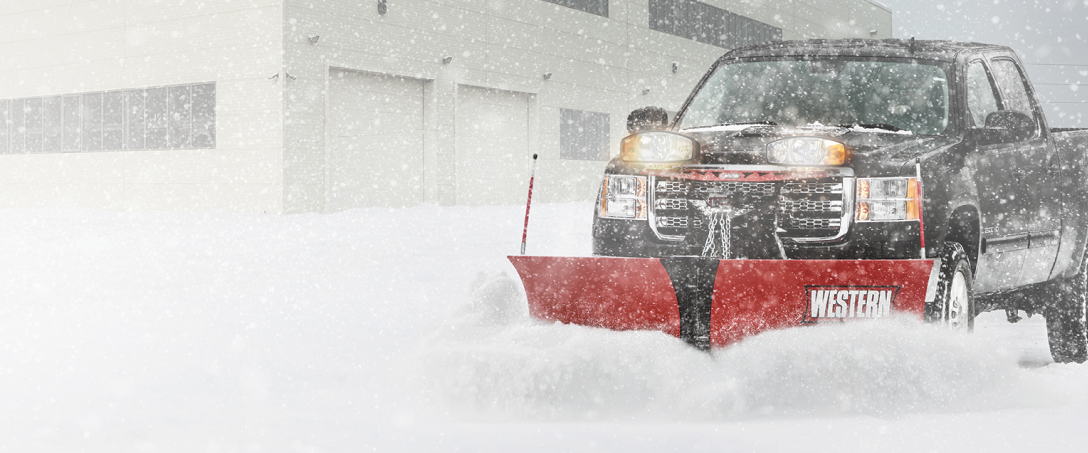 Plows
Western Snow Control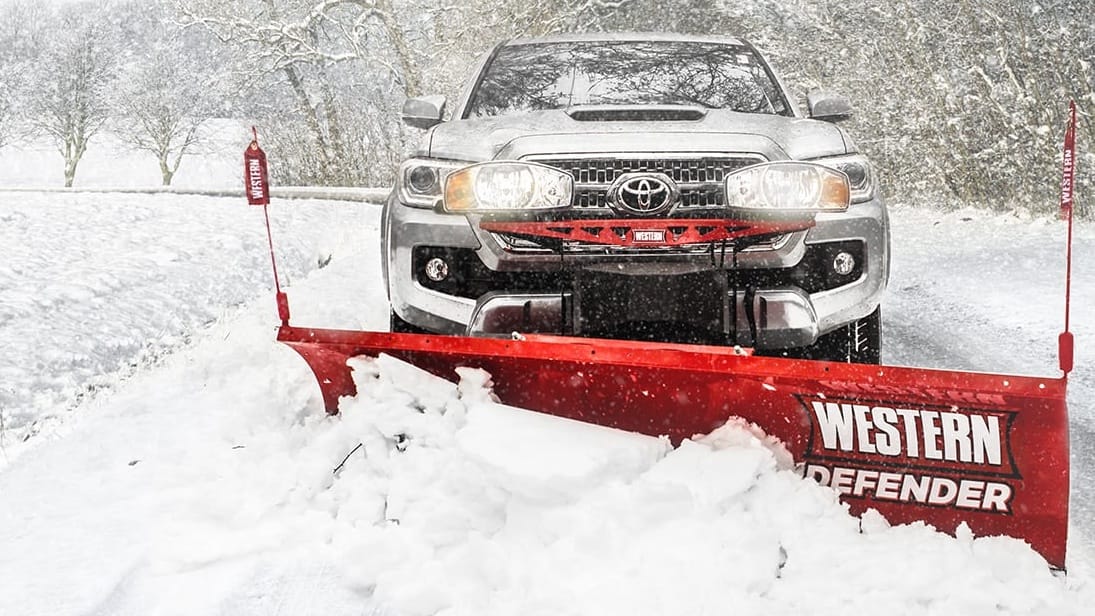 Defender
COMPACT SNOWPLOW
SAY GOODBYE TO YOUR SNOWBLOWER

When it's time to conquer the drifts in your driveway, the DEFENDER™ compact snow plow can help you clean up like a pro from the comfort of your own vehicle. Just hook it up to your mid-size pickup or SUV and plow your property how you want, when you want.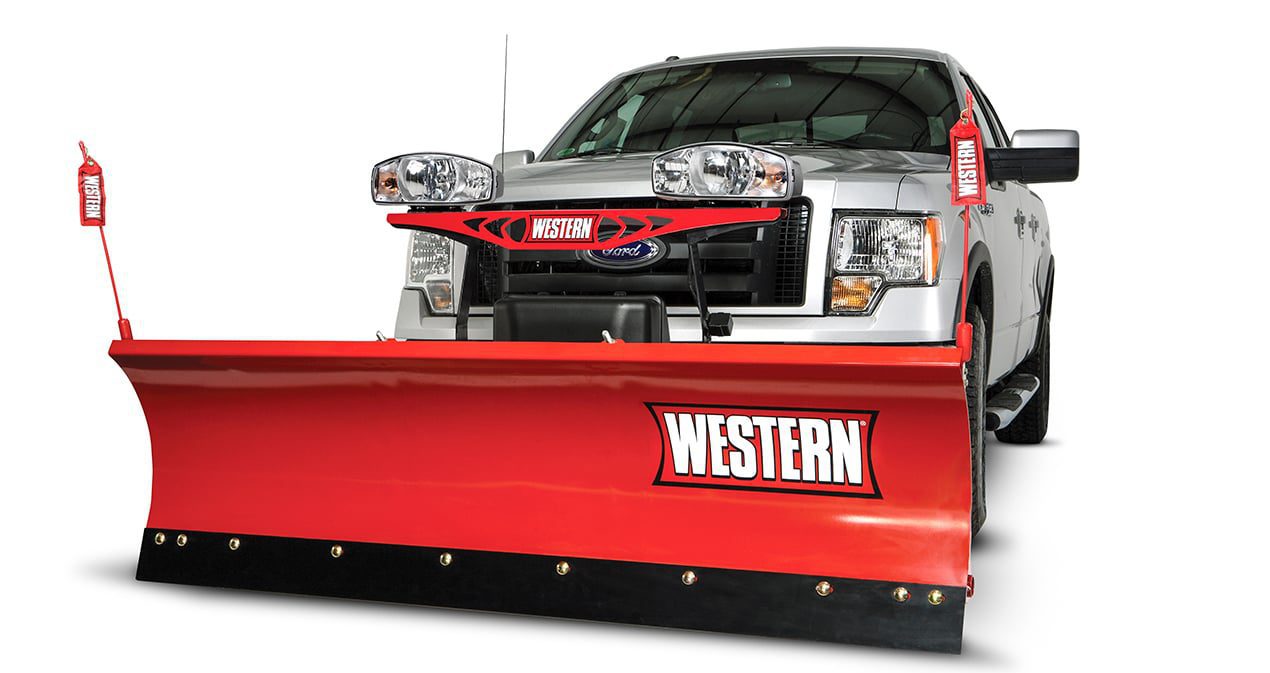 HTS
HALF-TON SNOWPLOW
The Western HTS is a full-size, full-featured snowplow designed exclusively for today's lighter half ton, four-wheel-drive trucks.
It handles both personal and light commercial applications like a pro, providing great performance without added weight. The HTS is a perfect fit for half-ton trucks like the Ford F150, Chevrolet K1500 and Dodge Ram 1500.
The HTS features:
Two spring-grip blades protect your plow and truck when you hit an obstruction, such as a curb or pothole. Elastomer grip pads reduce these occurrences even further.
Six verticle ribs and the Western-exclusive POWER BAR provide excellent structural support.
Hydraulic scrape lock hydraulically locks the blade down for enhanced scraping and clean back drag performance.
14-gauge steel moldboard.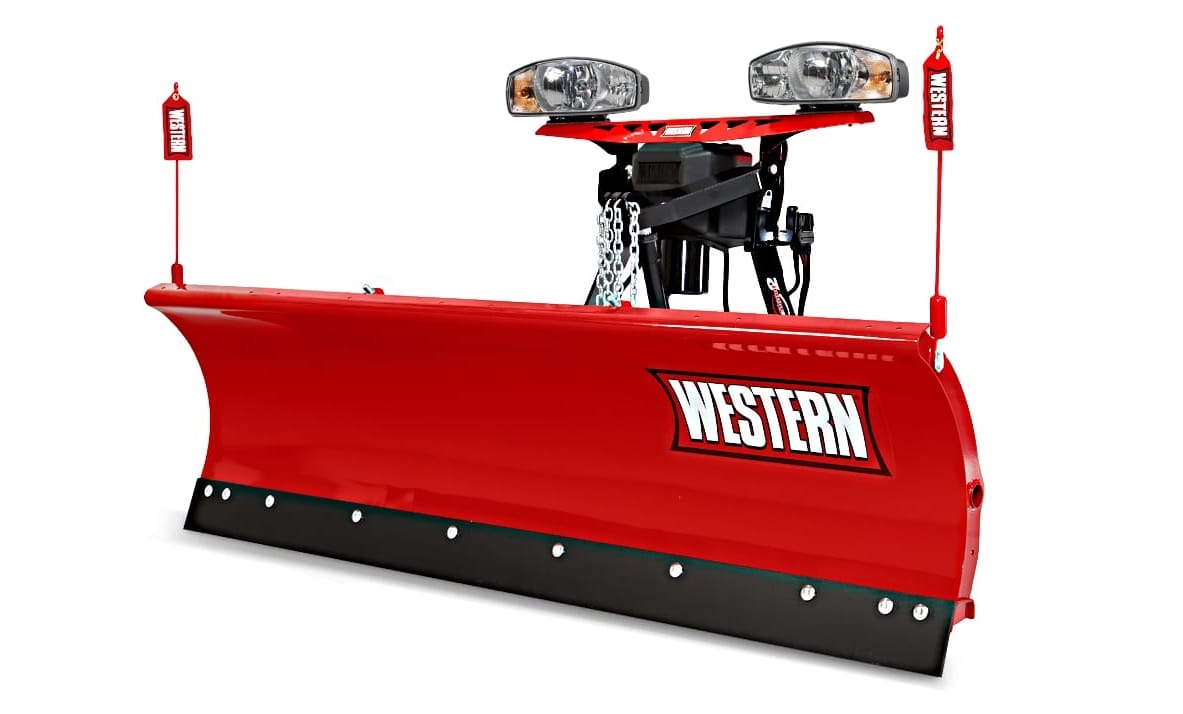 Midweight
Snowplot
The Western MIDWEIGHT is a high-performance snowplow designed specifically for light commercial use. The MIDWEIGHT is offered in two types of finishes; powder coat or high-density polyethylene. The blade angle provides excellent snow-rolling action and a maintenance-free surface.
The MIDWEIGHT features:
Western's exclusive POWERBAR runs across the back of the plow blade, providing high strength and rigidity.
High-strength steel base channel.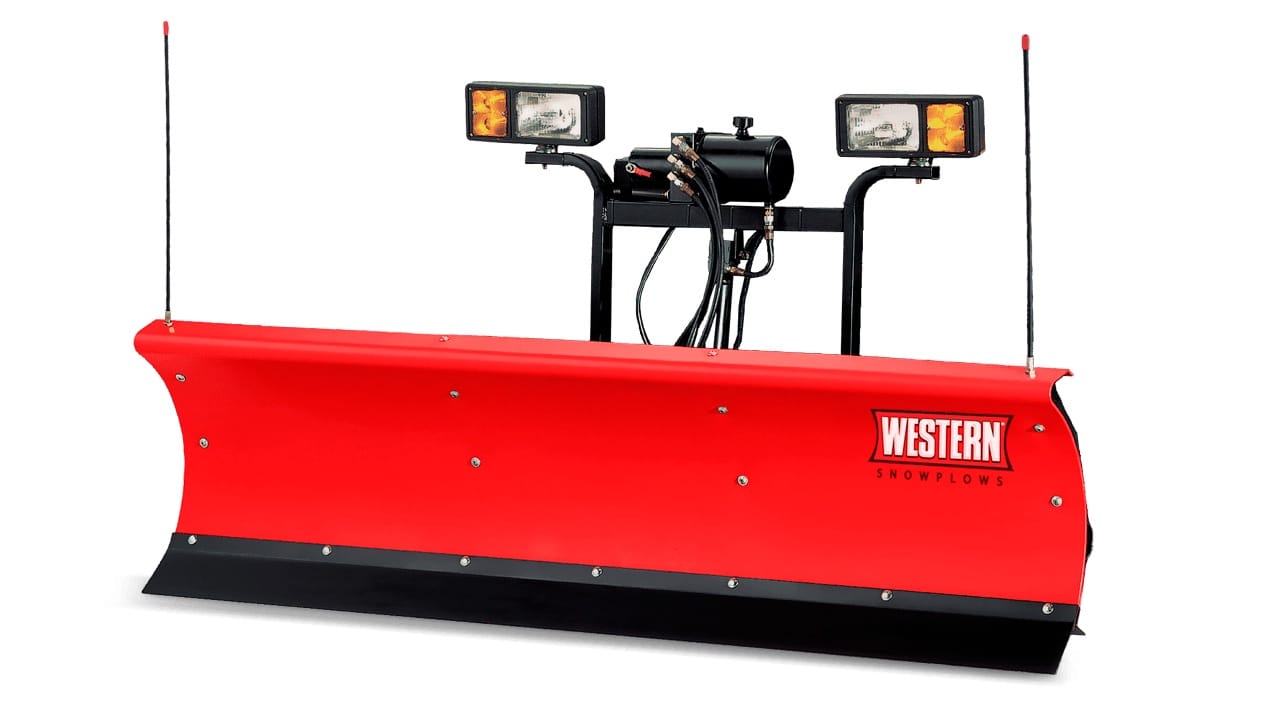 SUBURBANITE
Snowplow
The Suburbanite personal-use plow blade is 21" tall, and is available in widths of 6'8" or 7'4". The durable polyethylene snowplow moldboard is maintenance-free.
It is important to match the weight of the snowplow to the carrying capacity of the vehicle. You can be assured that the Suburbanite™ snowplow complies with federal standards and vehicle manufacturers' weight ratings.
The Suburbanite features:
Durable polyethylene moldboard is maintenance-free. Its slick surface helps roll the snow.
Specially designed elastomer trip springs on the back of the blade allow it to trip forward when an obstacle is encountered – saving wear on your plow and vehicle.
Exclusive scrape lock feature hydraulically locks the blade down for more effective scraping action.
In addition to the hand-held control, a compact, dash-mounted "joystick" control is also available.
PRO-PLOW® Series 2
Snowplow
When it comes to your business, taking care of the customers is what it's all about. Designed for the pros, the WESTERN® PRO-PLOW® has been one of the best-selling straight-blade models for snowplow contractors since its introduction. When they're counting on you, you can count on the PRO-PLOW.
Western Products manufactures our own hydraulic components to assure the highest quality and reliability standards are met. You get a hydraulics system that's not only fast and responsive for snow plowing efficiency, but that's built to last season after season.
Fast, responsive hydraulics for maximum snow plowing efficiency
Fully enclosed components are protected from the elements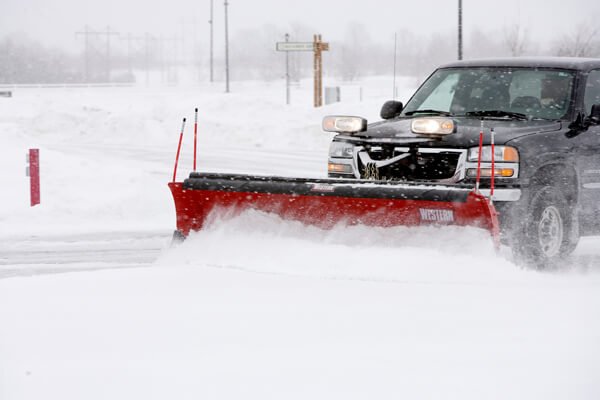 Pro Plus
Snowplow
The Pro Plus is a best seller for our network of Minnesota Western plow dealers. This is because contractors prefer its strength and durability. It is designed for heavy duty commercial and light municipal applications. The wide range of Pro Plus plow sizes means it is capable of fitting a wide range of trucks.
The Pro Plus features:
Western exclusive POWERBAR provides strength to prevent blade tripping.
Two shock absorbers to soften the snowplow's blade trip return.
A high-strength tubular quadrant built to have the plow withstand many seasons of commercial use.
The high-strength base channel supports the plow where you need it most.
Available back drags from Western, or an exclusive custom back drag available from Aspen Equipment.
The Pro Plus has a massive pivot point with a 1″ diameter pivot bolt point to ease nose plate stress.
Standard 1/2″ x 6″ high carbon steel cutting edge.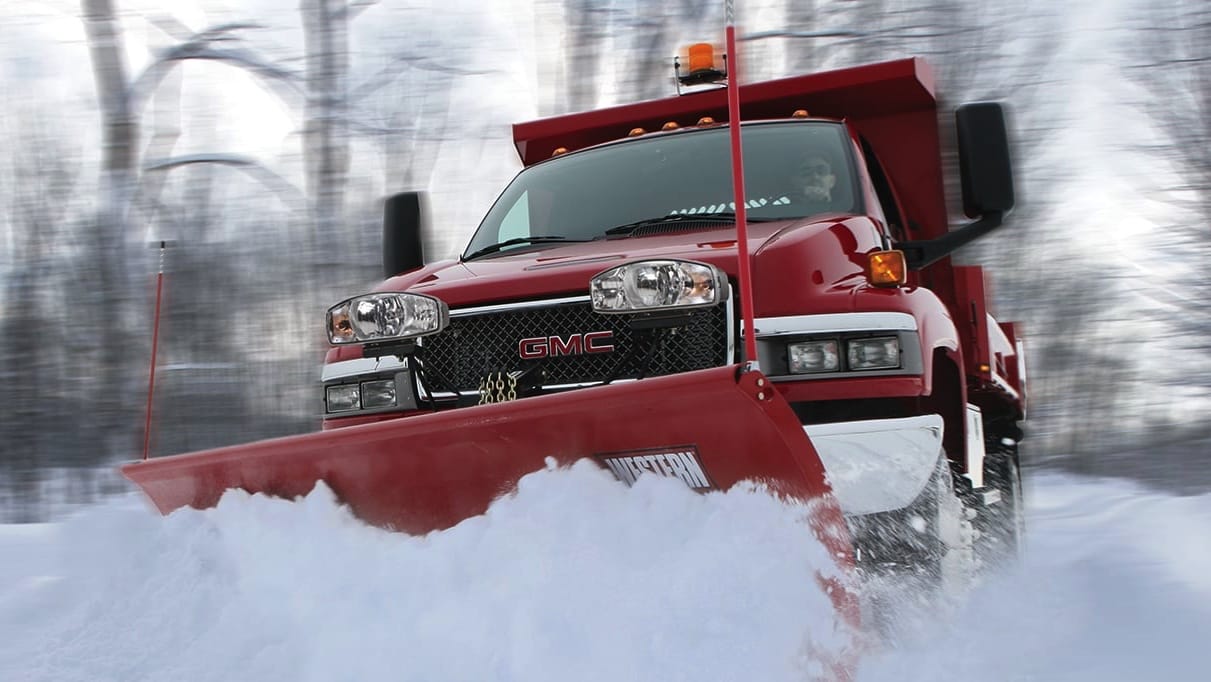 Heavyweight
Snowplow
The HEAVYWEIGHT is the largest blade offered by Western. This snowplow is ideal for all-purpose, moderate-speed plowing, and will work great for plowing parking lots, county roads and local streets.
The HEAVYWEIGHT is offered in both 9′ and 10′ blades and designed for trucks in the 14,000-27,000 GVWR range. All HEAVYWEIGHTS come standard with cast-iron shoes.
The HEAVYWEIGHT features:
Shock absorbers to soften the snowplow's blade trip return.
Wheels to help maneuver the snowplow blade when attaching it to your truck.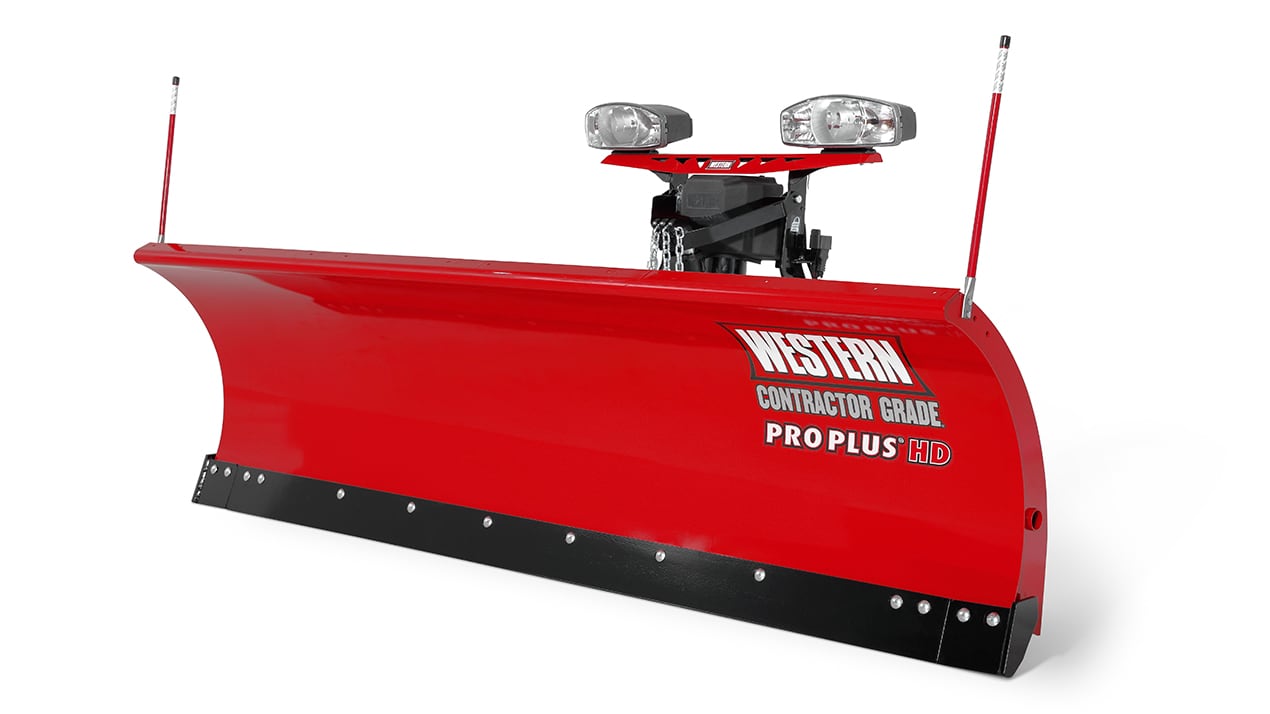 PRO PLUS® HD
STRAIGHT BLADE SNOWPLOW
Make the most of the Class 4 to 6 trucks in your fleet with a plow that's uniquely qualified to handle the workload. The WESTERN® PRO PLUS® HD snow plow lets you make short work of large parking lots and local streets. Forget business cards—distinguish yourself with the clean pavement you leave behind you when using our heaviest-duty plow.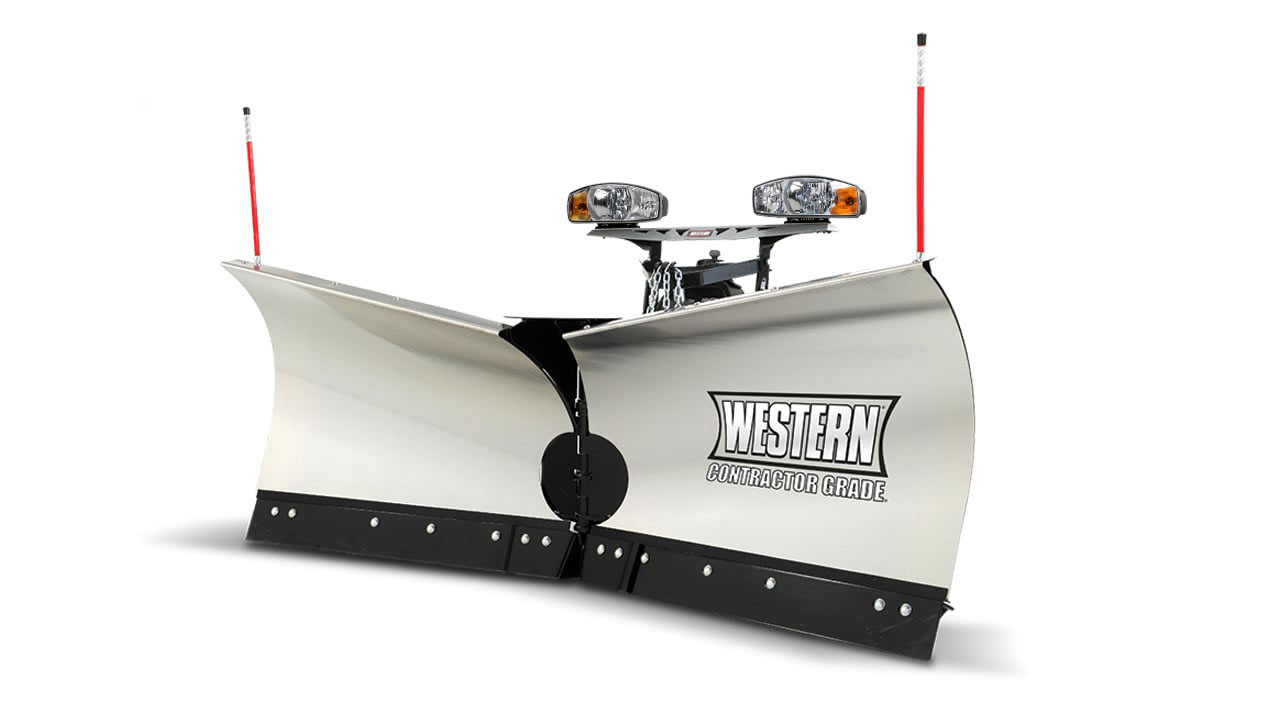 MVP 3
V-Plow
MVP 3™ V-plow blades soar from a 31" center height up to 39" at the outer edge on the 9' 6" models. So whether you're busting through the big drifts, carrying and stacking, or windrowing wide areas, these wings give you all the carrying capacity and snow-rolling performance you need to get the job done fast.
The WESTERN MVP 3™ is now available in 14-gauge stainless steel for low-maintenance, corrosion-resistant performance. With V-plow blades that soar from a 31" center height up to 39" at the outer edge on 9' 6" models, you can cut through the big drifts, carry more snow and get the job done fast. The MVP 3 in stainless is as hard working as it is sharp-looking.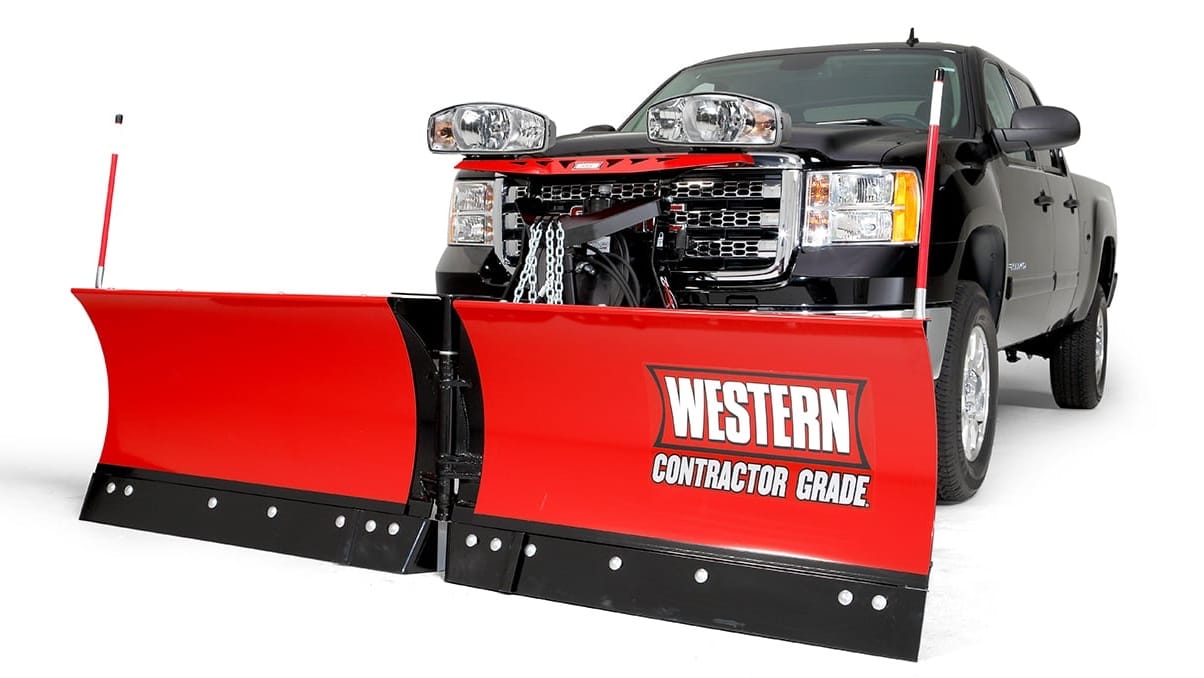 MVP Plus
V-Plow
The Western MVP Plus V-plow is available in steel or poly, and in three sizes (7 1/2′, 8 1/2′ and 9 1/2′). Using a V-plow is all about increasing productivity. The MVP's hydraulic system is not only faster than the competition, but also more reliable and simplified so it's easier for service.
The MVP features:
Western exclusive power bar. The power bar provides higher blade strength for your snowplow and prevents the plow's blade from twisting.
Dual trip edge design, where each wing incorporates a trip edge, so when a blade hits an obstruction, only the lower edge of the plow trips back. This feature is unmatched with competition. Tripping in scoop mode not only will protect you, but it also will protect your snowplow and truck.
Double acting cylinders are a standard feature, unlike competing plows. These allow you to hydraulically lock the blade wings for back dragging.
T-frame design provides added strength and allows blade pitch adjustment to reduce uneven cutting edge wear.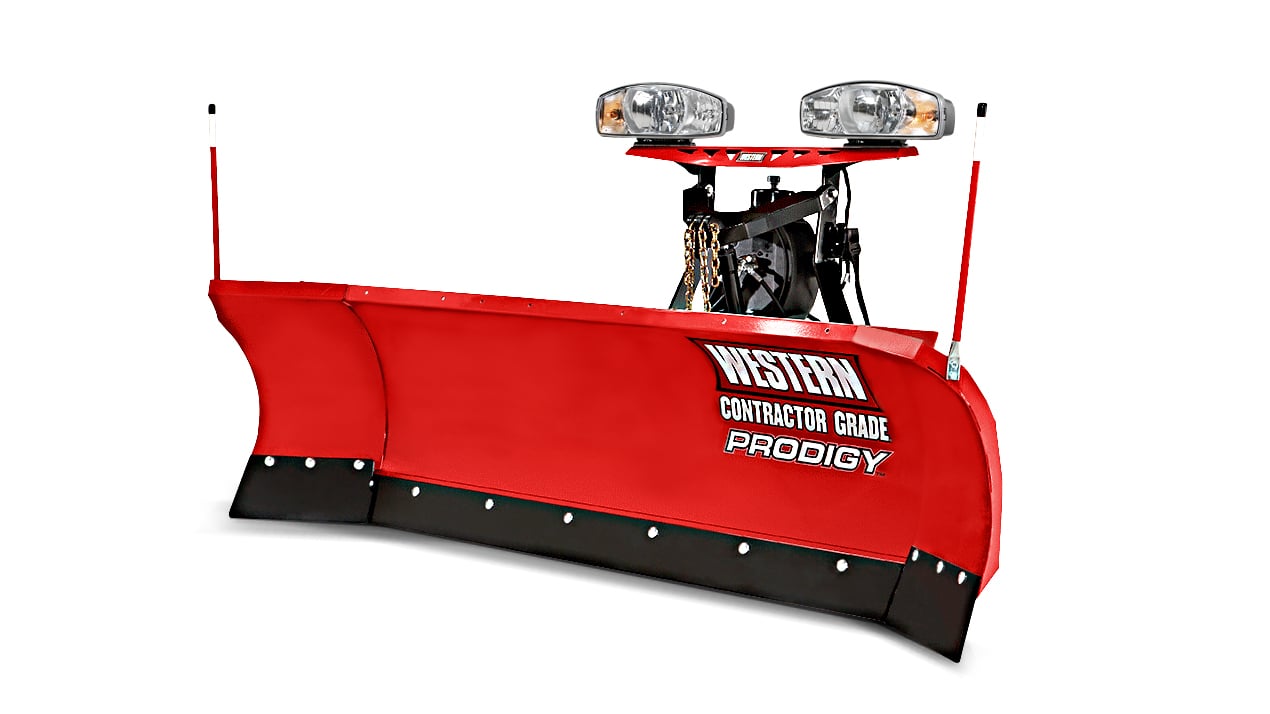 PRODIGY™
MULTI-POSITION WING SNOWPLOW
The all-new PRODIGY™ snowplow features an ingenious patented mechanical wing design that automatically positions its wings to deliver maximum plowing efficiency.
Whether in straight-ahead scoop mode or angled for windrowing, it delivers multi-position winged plow productivity in a plow that's as easy to operate as a straight blade. It's available for trucks or skid-steer loaders.
The PRODIGY features:
Moldboard Features Mechanical Wings
The 12-gauge steel moldboard is 29½" high and features an ingenious patented mechanical wing design that automatically positions its wings to deliver maximum plowing efficiency.
Plow Wings Position Automatically
When you change the plowing angle, the PRODIGY™ wings automatically transform the most efficient plowing configuration. When positioned for straight-ahead plowing, both wings default to an 8' 7" wide scoop position for maximum snow-carrying capacity and stacking.
As the blade angles, a heavy-duty coil compression spring and cable assembly pulls the trailing wing back in line with the moldboard while the leading wing remains angled forward to direct snow into the moldboard. Fully angled, you'll windrow a full 7' 10" swath with virtually no spill-off.
For back-dragging, wings can quickly and easily be mechanically pinned into a 9' 8" straight-blade configuration.
Reinforced Blade Structure
Eight vertical ribs and the exclusive WESTERN POWER BAR provide added reinforcement across the entire back of the plow blade to provide exceptional torsional strength and rigidity.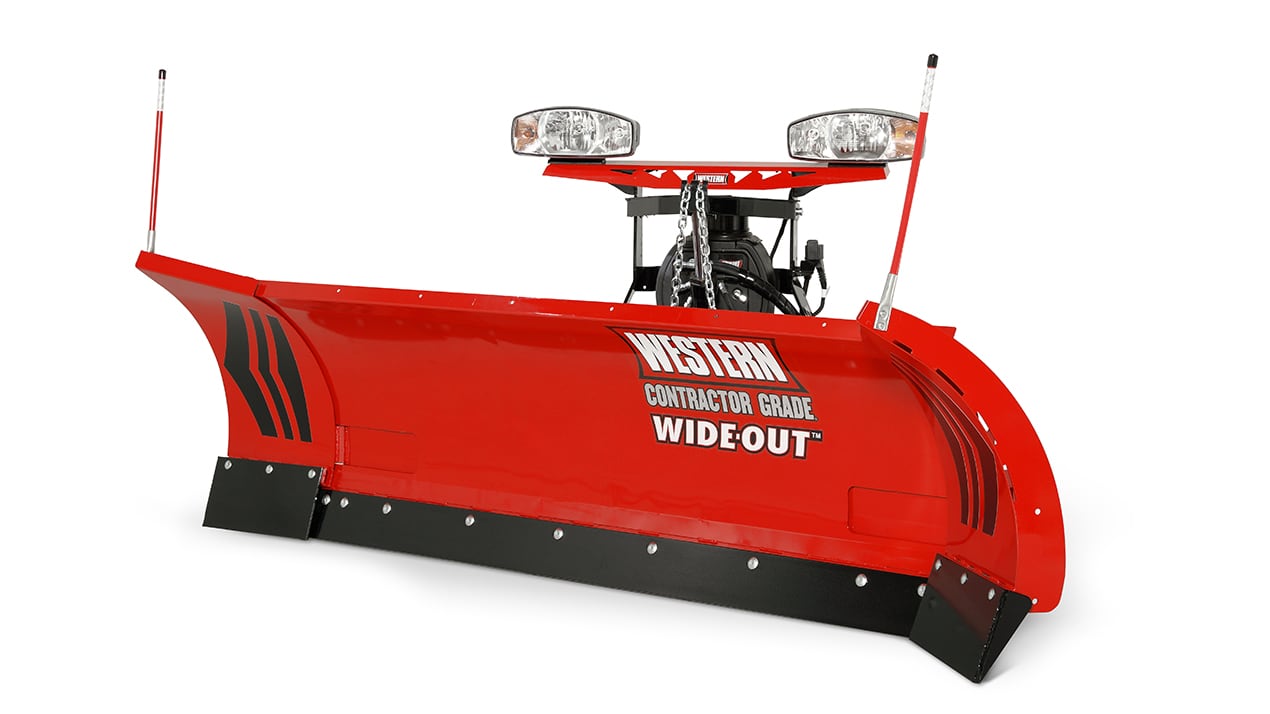 WIDE-OUT™ | WIDE-OUT™ XL
ADJUSTABLE WING SNOWPLOWS
Clear more pavement than ever before with the new WESTERN® WIDE-OUT™ and WIDE-OUT™ XL adjustable wing snow plows. Offered in two blade sizes, the WIDE-OUT XL model extends from 8'6" to 11' in straight blade mode, making it the widest WESTERN plow for truck applications.
The plows are our tallest winged plows at 31″, and feature flared wings allowing operators to be more efficient on their jobs by carrying even more snow with every pass. Prepare yourself to take on more snow—even in the depths of winter.
The WIDEOUT features:
Hydraulic wing extensions to maximize carrying capacity. You can independently position each wing to maximize plow blade width and carrying capacity.
Dual POWERBAR allows for exceptional strength, therefore preventing any twisting. Six vertical ribs and dual power bar design provide excellent strength.
Wing cutting edges. These poly-wing cutting edges flex to provide trip in any position.
Multi-function handheld controller provides responsive and precise blade movement for your plow.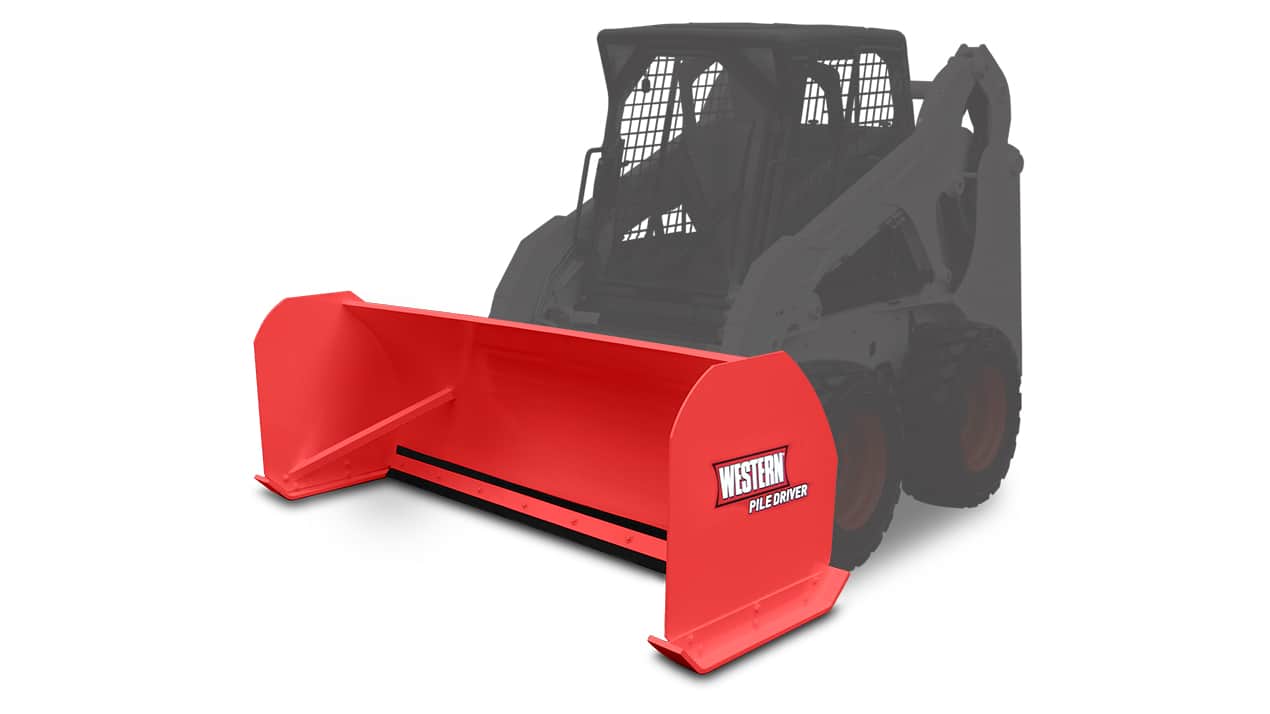 Pile Driver
Pusher Plow
Containment Plows Worthy of the WESTERN® Name

For the really big jobs, Western Products offers a full line of heavy-duty containment plows designed to move maximum yards of snow in minimal time. The WESTERN® PILE DRIVER™ containment plow attaches quickly and easily to your skid-steer, backhoe or wheel loader.
Like all Western products, the PILE DRIVER™ containment plow is designed and built for long life and trouble-free performance.
PILE DRIVER features:
Structural steel channel across entire blade is internally lined with stiffener ribs for structural integrity and bucket-impact strength
Quick-change attachment system features fully formed gussets that support both the upper and lower post, which connect directly with the internal stiffener ribs for strength and support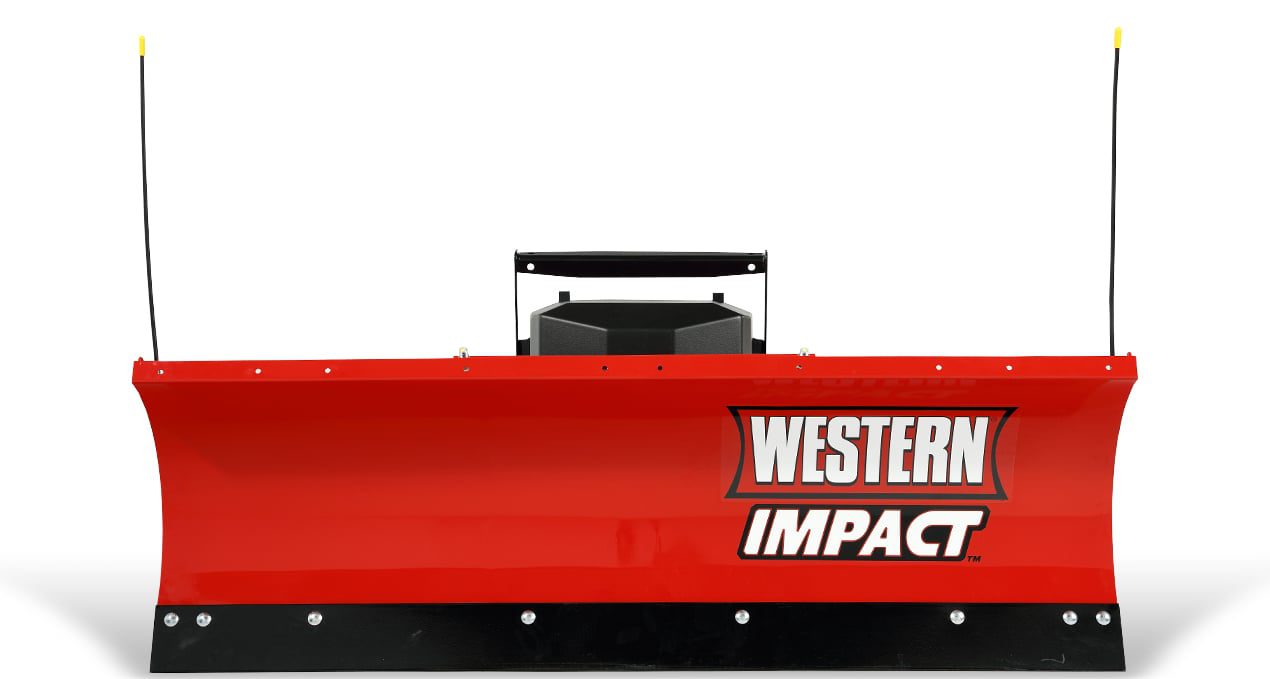 IMPACT UTV
V-PLOW
WESTERN® IMPACT™ UTV snow plows are professional-grade plows designed and built exclusively for utility vehicles. The tough, 6' wide v-plow easily adapts to handle 5' sidewalks and gates in angle, scoop or V mode.
The 6′ straight blade is a commercial grade snow plow in a lighter-weight package that fits more UTVs. Now you can have year-round UTV fun and get your winter work done too.
Professional-grade features designed for UTVs
6′ powder-coated steel flared moldboard
Accommodates 5′ wide sidewalks when fully angled or in V mode
Standard double-acting cylinders
Trip-edge protection
Lightweight and engineered for strength
Scrape lock for clean scraping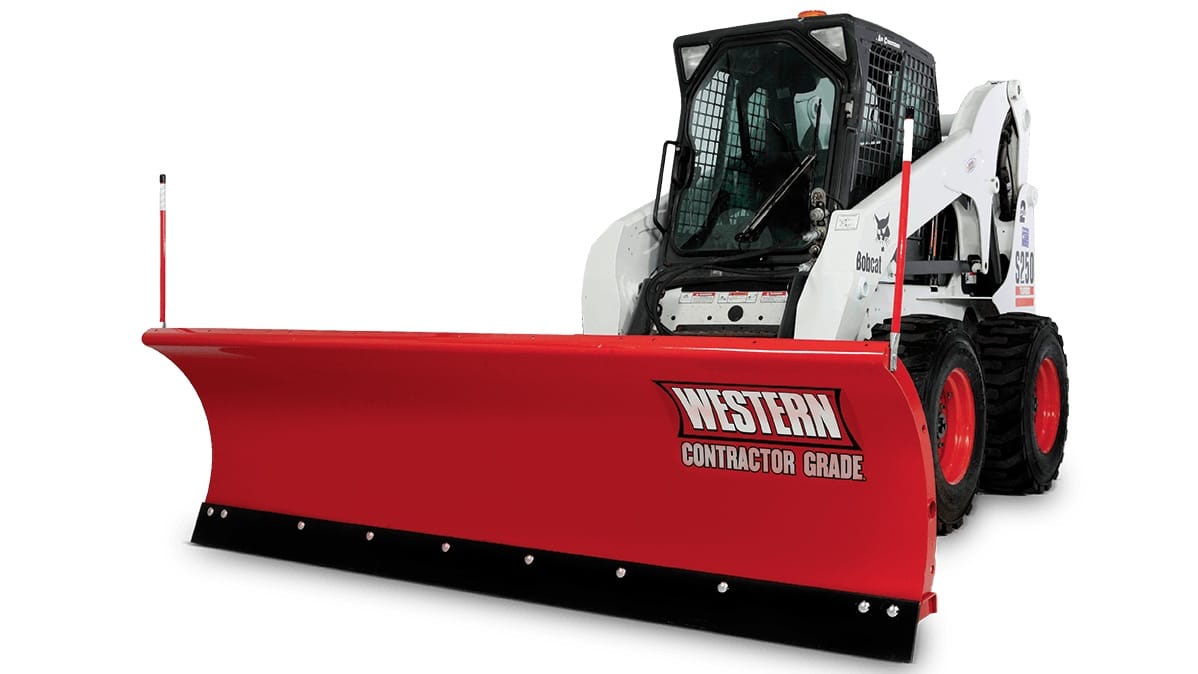 SKID-STEER
Plow
The WESTERN® PRO PLUS® and new PRODIGY™ snowplows are available with a universal skid-steer loader mounting plate for fast and easy hook-up. The skid-steer's standard auxiliary hydraulic system provides the power to operate the blade.
The all-new PRODIGY™ snowplow features an ingenious patented mechanical wing design that automatically positions its wings to deliver maximum plowing efficiency. Whether in straight-ahead scoop mode or angled for windrowing, the PRODIGY delivers multi-position winged plow productivity in a plow that's as easy to operate as a straight-blade.
Designed for heavy-duty commercial and light municipal plowing, contractors across North America choose the PRO PLUS® blade for its impressive strength and versatility. Available in 8', 8½' and 9' widths, the PRO PLUS snowplow is the perfect all-purpose straight blade for keeping your skid-steer productive and profitable all winter long.