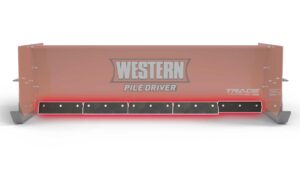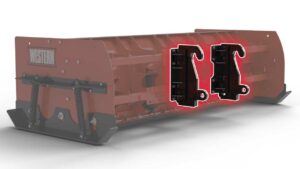 The award-winning Western Pile Driver pusher plows with TRACE edge technology move massive amounts of snow – scraping down to the pavement – so you can get more jobs done faster. Available in 8′, 10′, and 12′ widths.
Unique Features
Terrain-response advanced cutting edge (TRACE) is comprised of independent, 2′ sections that raise, oscillate, and trip to accommodate contours and obstacles in the plowable surface.
A common attachment plate with floating coupler makes installation easy with a wide variety of equipment and machinery, including skid-steers, wheel loaders, backhoes, and tractors. The floating coupler reduces negative down pressure from the vehicle, protecting against premature wear of the pusher cutting edge and components.
Operation is conveniently tied into the equipment's controls.
Self-leveling side plates ensure the TRACE edge remains in direct contact with the plowable surface.
Each 2′ section comes standard with a 3/4″ cutting edge with carbide inserts – replace only the sections that show wear.
Product Specs 8′, 10′, 12′
| MODELS | 8′ | 10′ | 12′ |
| --- | --- | --- | --- |
| Moldboard Options | Powder-coated steel | Powder-coated steel | Powder-coated steel |
| Blade Type | Pusher | Pusher | Pusher |
| Vehicle Compatibility | Skid-steer | Skid-steer | Wheel loader |
| Approx. Weight* (without mount) | 2,127 lb | 2,249 lb | 2,644 lb |
| Horsepower Compatibility | 45+ HP (skid-steer) | 60+ HP (skid-steer) | 70+ HP (wheel loader & backhoe) |
| Blade Width | 8′ | 10′ | 12′ |
| Blade Height | 30″ | 30″ | 42″ |
| Side Plate Width | 56″ | 56″ | 56″ |
| Side Plate Height | 30″ | 30″ | 42″ |
| Moldboard Radius | 27″ | 27″ | 46″ |
| Approx. Snow Capacity | 75 cu ft | 94 cu ft | 219 cu ft |
| Cutting Edge Technology | TRACE | TRACE | TRACE |
| Cutting Edge Material | High-carbon steel with carbide inserts | High-carbon steel with carbide inserts | High-carbon steel with carbide inserts |
| Mount Type | Skid-steer attach plate | Skid-steer attach plate | Coupler |
Product Specs 8′, 10′ (36″ H)
MODELS
8′ (36″ H)
10′ (36″ H)
Moldboard Options
Powder-coated steel
Powder-coated steel
Blade Type
Pusher
Pusher
Vehicle Compatibility
Tractor/wheel loader
Tractor/wheel loader
Approx. Weight* (without mount)
2,221 lb
2,377 lb
Horsepower Compatibility
Tractor: 40+ HP
Wheel loader & backhoe: 60+ HP
Tractor: 50+ HP
Wheel loader & backhoe: 60+ HP
Blade Width
8′
10′
Blade Height
36″
36″
Side Plate Width
56″
56″
Side Plate Height
36″
36″
Moldboard Radius
27″
27″
Approx. Snow Capacity
108 cu ft
135 cu ft
Cutting Edge Technology
TRACE
TRACE
Cutting Edge Material
High-carbon steel with carbide inserts
High-carbon steel with carbide inserts
Mount Type
Skid-steer attach plate/coupler
Skid-steer attach plate/coupler
*Does not include vehicle mount. Refer to the Quick Match program for specific vehicle applications.
Download Western Snow Plow Brochure