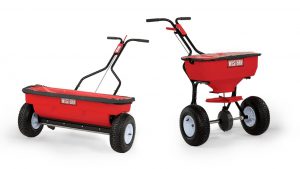 Western Walk-Behind salt spreaders deliver professional, hassle-free performance. The WB-100B and WB-160D models are constructed of sturdy, corrosion-free polyethylene and a powder coated steel frame to stand up to the demands of commercial use.
The 100 lb capacity WB-100B poly broadcast spreader is ideal for wide areas like driveways, courtyards and wide walkways.
The 160 lb capacity WB-160D poly drop spreader is perfect for narrow walkways and when you want to keep material out of adjacent landscaping.
Features
Corrosion-free polyethylene hoppers for long-lasting durability
Standard clear cover to keep de-icing material dry and allow you to see how much is left in the hopper
Large 13″ pneumatic tires to enhance maneuverability on snow and ice
Top screen to help break up large chunks of de-icing material
Product Specs
| MODELS | WB-100B | WB-160D |
| --- | --- | --- |
| Spreader Type | broadcast | drop spreader |
| Capacity | 100 lb | 160 lb |
| Hopper Construction | polyethylene | polyethylene |
| Overall Dimensions (LxWxH) | 50″ x 26″ x 28″ | 48″ x 38.25″ x 36″ |
| Approx Weight (Empty) | 25 lbs | 55 lbs |
| Spinner Size | 10″ | — |
| Spreading Width | up to 20 ft | up to 3 ft |
| Materials | bagged ice melters, bagged rock salt, bulk salt, calcium flake, calcium chloride pellets | bagged ice melters, bagged rock salt, bult salt, calcium flake, calcium chloride pellets |

Download Western Spreader Brochure