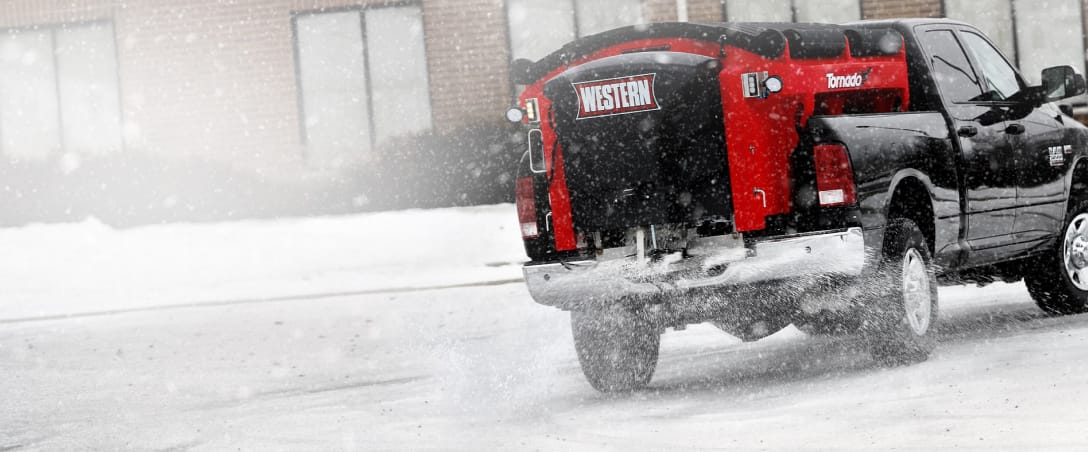 Spreaders
Western Ice Control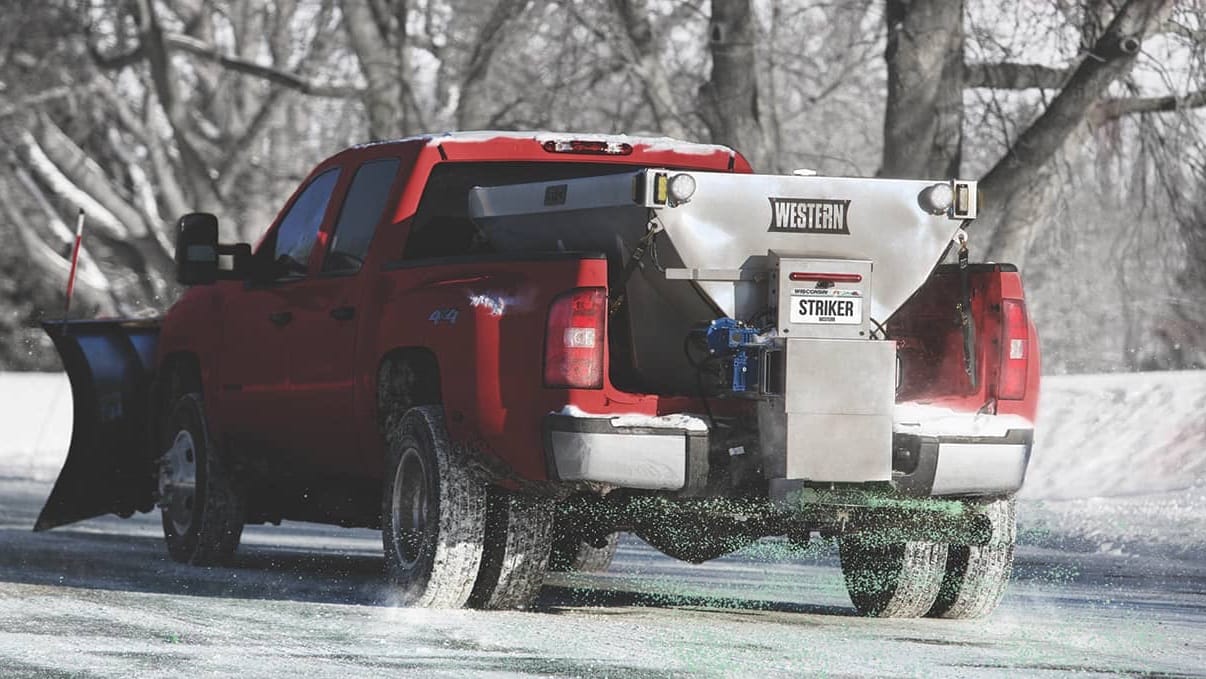 Striker
STAINLESS STEEL HOPPER SPREADER
The Striker spreader is built with low-maintenance, rust-resistant stainless steel for long-life protection against rust and is reinforced with wrap-around welded joints for durability. The spreader is available in six sizes: 7′ 1.5 cu. yd.; 8′ 2 cu. yd.; 9′ 3 cu. yd.; 9′ 4.5 cu. yd.; 10′ 4.5 cu. yd.; and 10′ 6 cu. yd. models.
Specifically engineered to minimize waste and enhance spreading capabilities, the Striker hopper spreader features an innovative chute design to direct de-icing material to precise points on the spinner to cast material out and away from the truck. An easy-to-adjust circular shutter deflector allows one-sided spreading operation, preventing materials from being spread to unintended areas.
Two instant-start, 12-volt electric motors provide quiet and reliable control over the 16 1/2" conveyor and spinner mechanisms. The spinner motor is sealed inside a weather-resistant housing that protects it from corrosion. Gas and hydraulic options are also available.
Electric models feature an enhanced, dual variable-speed control to precisely match material delivery and spread patterns to conditions. Four standard accessory buttons, a dedicated "blast" button and digital self-diagnostics alert the operator when the hopper is empty or needs adjustments.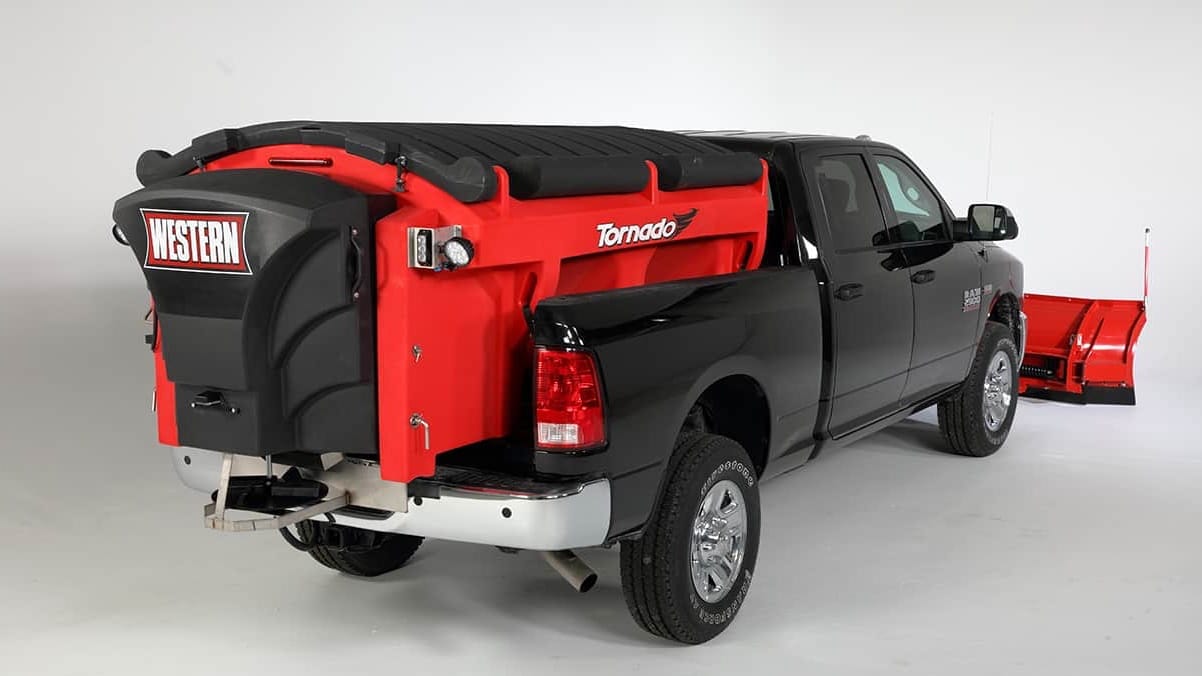 Tornado
POLY HOPPER SPREADER
When it comes to contractor-grade performance, the new-generation Tornado spreader blows away the competition. The Tornado features a rugged, rustproof, one-piece poly construction with innovative design features. It is available in 7′ and 8′ lengths with 1.5, 1.8 and 2.5 cubic yard capacities.
The Tornado features:
Standard top screen
Center high-mounted stop light
Built-in tie-down loops for strapping the unit to truck
Optional inverted vee kit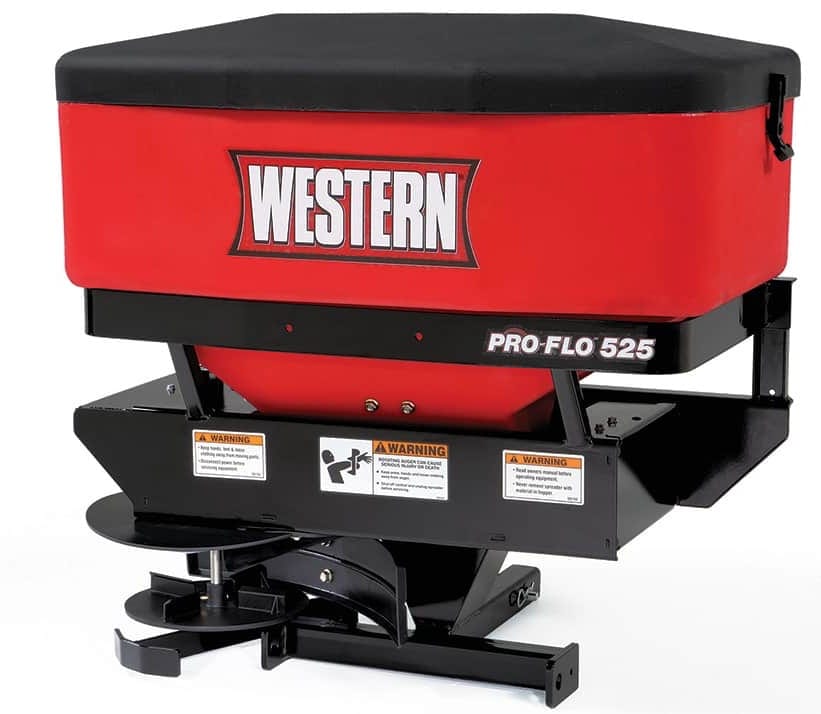 PRO-FLO™ 525 & 900
TAILGATE SPREADERS
The PRO-FLO™ 525 and PRO-FLO™ 900 tailgate spreaders feature a 2-stage, auger-fed delivery system and dual variable speed control for consistent and efficient flow of all types of de-icing materials, including rock salt and sand.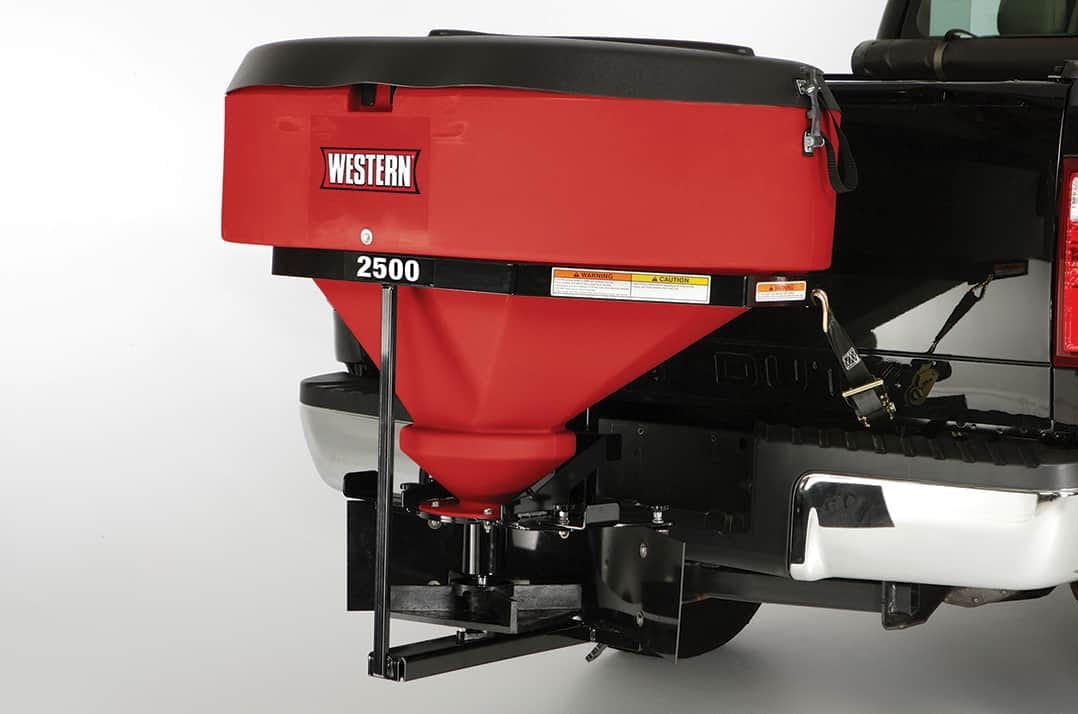 LOW PROFILE
TAILGATE SPREADERS
These tailgate spreaders feature a low profile design that provides an unobstructed rear view from the cab. They are ideal for spreading dry #1 rock salt, calcium chloride and other de-icing materials.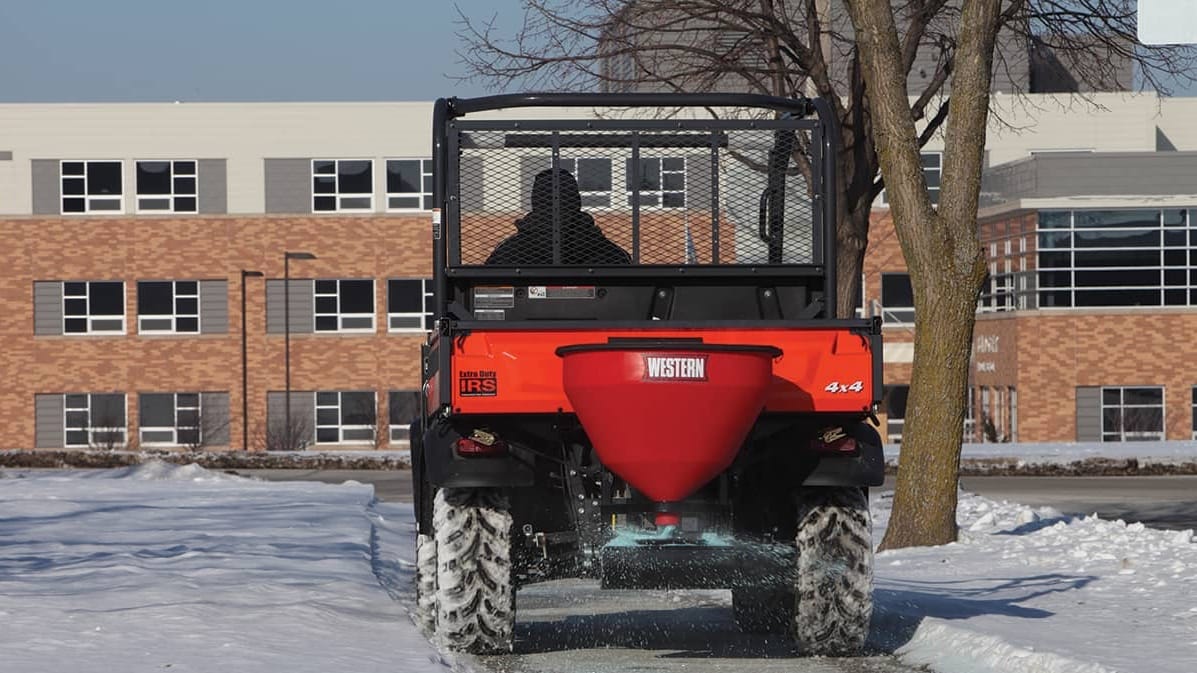 LOW-PRO 300W
WIRELESS ELECTRIC TAILGATE SPREADER
Delivers the ultimate in "plug 'n' play" convenience, the Low-Pro 300 is easy to mount on many vehicles without drilling or wiring.
The LOW-PRO 300W tailgate spreader comes with a standard 2″ receiver hitch, a 7-pin plug and a completely wireless key fob control! Available with mounts to fit pickup trucks, SUVs, utility vehicles and tractors.
TORNADO™ UTV
POLY HOPPER SPREADER
The WESTERN® Tornado™ UTV 11 cu ft poly hopper spreader is built just for UTVs. It features a sturdy, compact design that delivers many features of the larger models, in a size just right for your utility vehicle.
Unique features of the Tornado UTV hopper spreader include:
Multi-Angled Hopper: Designed to create a funnel, which provides maximum flow from the top of the hopper to the auger.
Transverse Auger Delivery System: Automatically backs in and out until an obstruction is cleared or a required adjustment has been made.
Quick-Connect Spinner Assembly: The easily removable quick-connect spinner assembly provides convenient access to the vehicle's hitch.
Dual Variable-Speed Control: Allows operators to individually control the two 12-volt electric motors to precisely match material delivery and spread patterns to conditions. In addition, the Tornado UTV spreader is built with a standard inverted vibrating V for maximum material agitation, a standard top screen to help break up large chunks of de-icing material while loading, a heavy-duty steel frame with electrostatic powder-coated finish and a fitted tarp cover that helps ice control material stay dry to prevent clumping.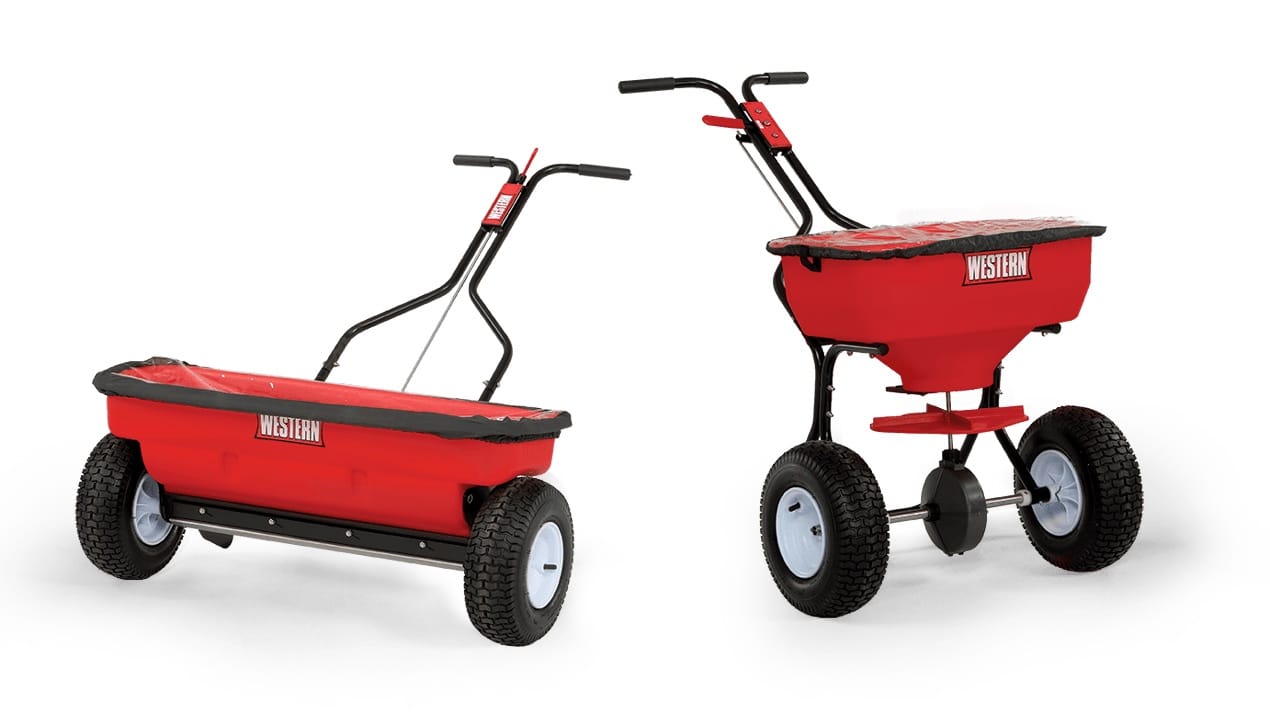 WB-160D & WB-100B
WALK-BEHIND SPREADERS
Whether you're drop-spreading along narrow walkways or broadcast-spreading across wider areas, WESTERN® Professional Walk-Behind Spreaders will get the job done.
Constructed of sturdy, corrosion-free polyethylene, both walk-behind spreader models feature a clear hopper cover to keep your de-icing material dry and flowing freely while providing a clear view inside, so you know when it's time to reload. With pneumatic tires and a powder-coated steel frame, these salt spreaders also handle commercial ice-melt products and are designed to provide trouble-free performance.
The WB-100B BROADCAST SPREADER features:
100 lb. capacity
Corrosion-free polyethylene hopper
Single-slot port design
Clear hopper cover
Top screen to break up incoming material
Powder-coated steel frame
10" molded plastic spinner
Nylon-composite gear-drive
13" pneumatic tires
The WB-160D DROP-STYLE SPREADER features:
160 lb. capacity
Corrosion-free polyethylene hopper
Clear hopper cover
Top screen to break up incoming material
Powder-coated steel frame
10" molded plastic spinner
13" pneumatic tires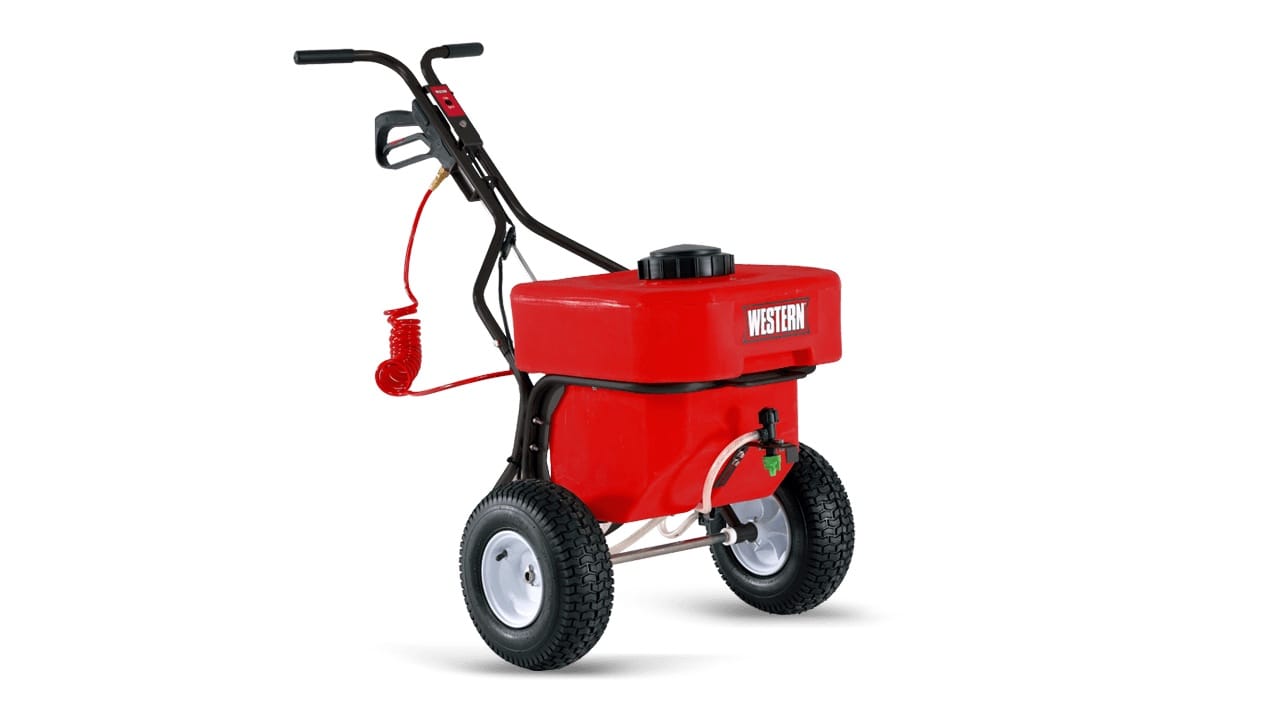 SS-120
WALK-BEHIND SIDEWALK SPRAYER
Apply liquid anti-icing before the storm to help prevent snow and ice from forming a bond with the pavement, so it's easier to scrape clean down to the surface. The SS-120 walk-behind sidewalk sprayer helps you do just that. Spray anti-icing liquid before the storm and your sidewalks will come out cleaner than ever.