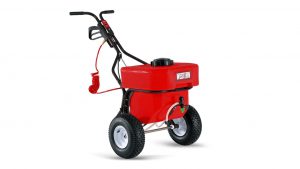 Apply a liquid anti-icing solution before storms to help prevent ice and snow from bonding to pavements. Use on sidewalks, walking paths, stairs, entryways and other walking areas.
Features
12-gallon poly tank with easy fill cap.
12-volt battery powered electric pump sprays up to one gallon per minute at 60 psi.
Use the 8 ft coil spray wand to treat stairs, entryways, and other hard-to-reach areas. Features a spray distance of 15 feet.
Height-adjustable nozzle sprays up to four feet wide.
Large 13″ pneumatic tires for maneuverability over ice and snow.
Product Specs
| | |
| --- | --- |
| Overall Dimensions (LxWxH) | 48″ x 28″ x 33″ |
| Approx Weight (Empty) | 60 lbs |
| Capacity | 12 gallons |
| Spraying Width | up to 48″ |
| Spraying Volume | 1 gal/min |
| Frame | powder-coated steel |
| Tank | one-piece LLDPE |
| Motor | 12v, direct-drive pump |
| Materials | liquid brine, calcium chloride solution & premium solutions |

Download Western Spreader Brochure